Rock In Rio Madrid 2008 Scenario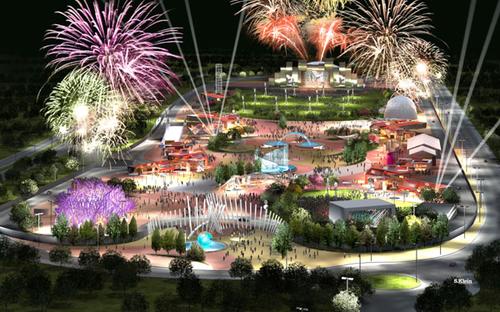 The
Rock in Rio Madrid 2008
festival will be held at Madrid,
Arganda del Rey
in a room specially created for the occasion:
the City of Rock
, an area with two main scenarios, a tent devoted to techno music, shops, restaurants, bars, a fashion catwalk and an area for sports.
According to the organization, it is expected that these facilities remain "alive" until the year 2014 and planned to offer such a festival twice a year in the same enclosure.
World Stage
The World Stage will be a parade for big international stars. This is an
impressive metal structure of 70 meters long by 25 high
,
with an area of 2,100 m2 (scenario)
.
Hot Stage
This is the scenario in which major groups Spanish group will be performing. Considering the significance of national and international visibility music of Rock in Rio, will own space with an image featuring modern music and Spanish.
Electronic Tent
It will be the place for the best DJs in the world. An area devoted to esclusive fans of electronic music in which they'll be mixing lights and design to create a very special atmosphere.
VIP Area
The VIP area will offer a unique environment intended to recover forces between action and performance. Providing open bar for the 2,000 lucky persons that will be enjoying this space.
Radical Zone
This area will have an ice skating rink and a hint of snow over 50 meters long, 12 high and 10 wide and will have machines that will generate 100 m3 of artificial snow a day.
Children Area
As the Rock in Rio is designed for the whole family, also provides a space where children can enjoy performances by puppets and where monitors will be participating in any activity such as painting, storytellers and much more while parents can go see the performances scheduled.
Source:
todomusica